Hello All and Sundry! Yesterday, there was a communiqué from the man of God Rev. PC Akubueze, who made it clear that a second category has been added to the ABBA AWARDS 2022. This is the Bible Quiz category which now broadens the door for entry to everyone who wants to participate. The first category is the good deeds category which is equally open to all. Details on both categories are outlined below. 
There are two categories for entry and anyone can enter into more than one category. The first category is the good works category and the second is the Bible Quiz category.
On the one hand, the Bible Quiz involves 5 questions of varied biblical topics with each question carrying 20 points.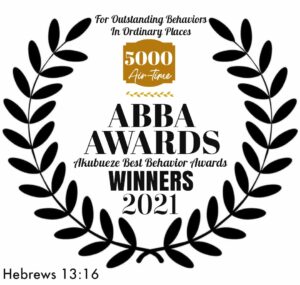 Only those candidates who scored above 50 points can qualify for entry in the Bible Quiz category. Your qualification gives you an automatic ticket for nomination. 
Every nominee also gets a prize that would be determined and disclosed by the Panel. Three winners will be selected from the available nominees as the first, second, and third with respective prizes. 
Please, note that everything which constitutes a good read, from grammar to spelling, shall be considered. 
The Bible Quiz will start very soon at a pace of one question per session. There will be 5 sessions each on different days. 
Answers to questions shall be sent via this email, abbaawards@ammgospel.com, and through inbox messages on the Facebook platform. 
To participate in the Bible Quiz category, you will need a code/number uniquely given to you by the team after you must have expressed your desire to participate in the comment section of this communiqué. So, if you are interested, email us ASAP.
On the other hand, the Good deeds category constitutes the spontaneous acts of good works inspired by God's love, voluntarily and outstandingly done without necessarily expecting a reward from anyone. You can back it up with photos of your good deeds. 
The Good deeds category entails :
OPTION 1. A short video clip of not less than 3 minutes highlighting the good work(s) you did to meet an impromptu need or a spur-of-the-moment solution to a social problem. 
–Recipient(s) of your love actions should not be your family, friends, or relatives. 
–The video clips must not be images from a movie, a skit, or a copyrighted work of someone else. It must be an original video to qualify for entry.
–The video quality does not necessarily matter but the images should be visible enough. 
–You don't have to buy an expensive gadget for this purpose. Any gadget that can capture images such as your phone is good to use. However, if you have access to HD video cameras, it's up to you to use. 
OPTION 2. If you can't video-record your good deeds, there's a written option to give a good description of any of your good deeds motivated by love that was spontaneously done as a solution to a problem of those who aren't your friends, and from whom you don't expect a reward. It must be backed with legit photos. 
–Either of the two above can qualify for entry for the ABBA AWARDS 2022 in September 2021. 
–Entries shall start in September 2021. We shall notify you when the time comes. But it's very important that you stay aware of THE NEEDS of your environment in order to discern when an opportunity to show love comes up. When it does, try to film or record the scene(s) as you respond to the needs, and save your video/photos files. 
–All entries shall be good deeds done in 2021. 
–You can enter in all two categories. This means that if you are in the Bible Quiz category, you can still enter in the Good Deeds category without let or hindrance.
— We shall accept all entries from anyone who follows this page, Ammgospel-J-Media. 
–Only videos and descriptions nominated for that category shall receive a prize.
–Three winners will emerge from those nominated as the first, second, and third respectively. 
–Prizes will be exclusively determined by the Panel.
Thank you for joining the ABBA AWARDS 2022. GOD BLESS!